How can you tell that you need to rethink your aftermarket strategy?
When growth stalls or is stagnant in a business, talk inevitably turns to cutting prices or ramping up sales and marketing resources in an attempt to boost product sales.
Those tactics can be effective in the short term, but only if they address the root cause of your problem.
But what if the root cause of your problem has nothing to do with sales or marketing?
What if you have a much bigger underlying problem than that?
So, if your profitability is shrinking, or enquiries and service contract renewals aren't as strong as they once were, or it's been a while since you considered investing in your aftermarket capability, it might be time to rethink your aftermarket strategy first.
Your aftermarket — more than just warranty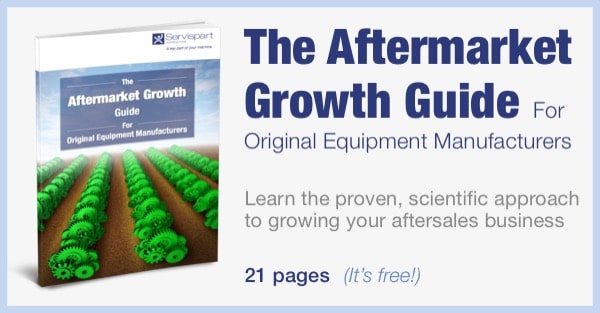 Your aftermarket is more than just a way of dealing with customer complaints and warranty claims.
At its core, it's the way to build customer loyalty, outcompete your competitors and deliver sustainable profit growth.
When done well, your aftermarket will help you to accomplish many important business objectives, including:
Cost savings, improved performance and better service experience for your customers.

Improved usage and performance data feedback for through-life product engineering.

New service revenue streams and customer value optimisation over the full product lifecycle.

Improved financial margins, growth, profit visibility and earnings/equity multiples.

Longer term stability, customer retention and business longevity.
So if your aftermarket growth has slowed, you're entering a new market, offering a new service, or you can't remember when you last considered your aftermarket business, then it is definitely time to rethink your aftermarket strategy.
Aftermarket growth rate has slowed
Flat growth or an inability to unlock your true aftermarket potential are important indicators that your aftermarket strategy, organisation, processes or systems may be out of date.
Lack of a clear aftermarket offering and strong aftermarket delivery capability makes it harder for your customers to quickly understand what you do and how you can best help them.
It is worth remembering that customers and top talent commit themselves to strong companies with a compelling vision of the future.
Hence, if your strategy is unclear, then your leaders, managers and staff will struggle to articulate your advantage to existing customers and potential prospects.
So if your aftermarket offering seems outdated or unclear to those outside your firm, your competitors will see that as a sign of weakness for them to exploit.
And when that happens, it won't be long before your best customers and staff start leaving and taking your profits with them.
Entering new markets or offering new services
At Servispart Consulting, we are known for the servitisation of manufacturing and building aftermarket capability.
Most manufacturing businesses are relatively new to the process of servitisation and are nowhere near fulfilling their true aftermarket potential.
Servitisation is obviously relevant for all Original Equipment Manufacturers (OEMs) and most parts manufacturers.
What's less obvious, is that it is also relevant for parts distributors and service providers too.
Especially if they are competing with manufacturers in the third party aftermarket marketplace.
Servitisation inevitably leads to the aftermarket side of your business entering new markets and offering new services.
Doing that successfully requires new aftermarket processes, systems, people, organisation structures, service partners, commercial business models, etc.
Which in turn requires you to rethink your aftermarket strategy and create a Growth Action Plan.
Your aftermarket strategy is out of date
Needing to refine your aftermarket strategy does not mean your aftermarket business is dead.
On the contrary.
Evolution of your strategy can be the natural outcome of your successful growth and technological changes in your industry.
But research shows that companies that don't refresh their strategy every 5 to 10 years will become out of synch with the marketplace and struggle to remain relevant.
The speed of technological change and customer behavioural change in today's market means that the need for change is a constant in successful businesses.
Aftermarket capability is no different.
And things can change much quicker than you realise.
The Internet is ubiquitous today but it's hard to believe that the Internet was in its infancy 20 years ago.
Similarly social media.
The likes of Facebook and Twitter were just getting going as recent as 10 years ago.
When did you last review your aftermarket strategy?
I don't mean produce an annual budget for it, everyone does that.
I mean fundamentally sit down with your team together, and think things through properly with proper data, innovative ideas and knowledge of the latest best practice?
Time to rethink your aftermarket strategy
Engineers in manufacturing businesses spend most of their time worrying about digital manufacturing, additive manufacturing (3D printing), Internet of Things (IOT), new material technologies like carbon fibre or graphene, and the like.
However, the impact of these things on your aftermarket also needs to be considered.
Probably even more so given the relative profitability of the aftermarket compared with new product sales.
Then there are the aftermarket specific issues and opportunities to consider.
Aftermarket processes, systems, organisations, partners and business models need to be updated every few years to stay relevant and competitive.
A field service engineering team that isn't using mobile devices to access critical customer information and technical parts information, for example, won't be as effective as one that is.
A service parts team that isn't using the latest service parts planning software and processes is spending too much cash on inventory, losing parts sales to competitors, or most likely, both.
And a competitor delivering a faster, stronger parts and service experience is just an Internet click or tweet away from your customers.
Even for B2B and B2G customers too.
Whether your goal is to boost aftermarket growth, servitise your business, or simply to stay relevant in today's dynamic industry marketplace, you should rethink your aftermarket strategy.
At the very least, an aftermarket benchmark is something to strongly consider.
And especially before you invest your precious time and money in tactics (new staff, process tweaks, new CRM or ERP systems, outsourcing, etc.), that will be sending an outdated or ineffective message.
Additional Resources
How Servispart Consulting Can Help
Develop you aftermarket strategy to connect better with customers and prospects. Our Aftermarket 360™ programme helps you do this quickly, cost-effectively and delivers a Growth Action Plan too. If you'd like an informal conversation about how it could help you, please get in touch.
PDF DOWNLOAD
The Aftermarket Growth Guide
for Original Equipment Manufacturers (OEMs)
"It's the ultimate guide to developing your aftermarket strategy"