Growing your aftermarket parts and service business used to be an optional strategy for manufacturers, only worthy of their time and effort when sales of new products dried up during a recession or a 'difficult phase', for example.
That's what it was like when I started working for a parts manufacturer in the late 1980s.
If you worked in aftermarket parts and service in those days, like I did, it was well-known that aftermarket was always the 'poor relation' to manufacturing despite aftermarket making most of the profit and keeping the 'manufacturing side' alive.
During the 1990s, that company was taken over and broken up, by an American firm.
Corporate conglomerates and 'asset stripping' were all the rage back then.
Growing your aftermarket is no longer optional any more, for the strategic reasons we wrote about here…
In our opinion, growing your aftermarket should be at the centre of your overall business growth strategy.
If you agree with us and you're looking for some facts and figures to smack (sorry, influence) your senior managers or business owners with then this article will be especially useful for you.
Why you should be growing your aftermarket
Does any manufacturer not want higher margin growth?
Unlikely.
Generating a growing and sustainable business is the primary goal of most business owners and leaders.
In recent years, research into aftermarket services has become more prevalent as manufacturers recognise the potential of aftermarket services as a major growth driver.
This research has highlighted the compelling business case for manufacturers on four principle dimensions, which we will now explore.
1. Wider Profit Margins
Research by Gartner found that profitability of aftermarket sales is greater than for new product sales.
In many ways, this is counter-intuitive.
We hear all the time how service industries such as logistics, catering, retailing, etc. are lower margin than manufacturing.
So why should aftermarket service margins be higher?
Common parts such as nuts and bolts may fit your equipment as well as many other types and brands of equipment.
Hence, they are high volume, low-cost, commodity items.
Other parts though, such as car body panels, bumpers or headlights, for example are unique.
Not just for your brand of equipment but also for a specific product model in your range.
Specialist, unique parts command higher prices and while competing "aftermarket manufacturers" may supply non-genuine alternatives to your parts at cheaper prices, the pricing dynamics are much more favourable than lower cost nuts, bolts and fasteners, say.
It's similar for services.
Service and maintenance jobs that any car mechanic or Do It Yourself (DIY) enthusiast can do are commodity services.
However, jobs requiring specialist tools or test equipment afford higher margins.
As capital equipment becomes more sophisticated with built-in electronic sensors, data capture mechanisms, software, etc. the trend is away from DIY and commodity maintenance services and towards higher margin service activities.
Dependent sales of specialist parts, repairs, maintenance, etc.; limited availability of those specialist parts; limited availability of skilled and knowledgeable service labour; etc. explains why aftermarket service margins can be higher than other kinds of service (e.g. catering, cleaning, logistics).
The above also suggests that margins should continue to increase as product complexity increases.
It also suggests that the door is opening wider for manufacturers to become the even more natural choice to service, maintain and supply spare parts for their own equipment.
Wider profit margins for aftermarket parts and services is a good enough reason on its own for growing your aftermarket business and working out how best to do it.
But there's more…
2. The Customer Spending Gap
Our own research and experience of working with manufacturers across a variety of industry sectors over the last three decades has taught us that most manufacturers are not making the most of their aftermarket opportunities.
Industry research backs up our findings and puts a number on it.
Research shows that:
"The average manufacturer is only capturing 25% of its customer's total service spending on its products."
When you think about it, that's very surprising!
At the very least, it begs the question, "what's happening to the other 75%?"
It also begs the question, "why are manufacturers allowing 75% of their customer's budget to leak away to competitors," especially as the manufacturer often has the relationship with the customer at the Point of Sale (POS)?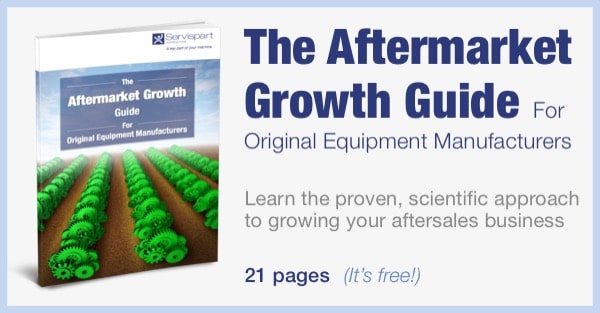 The answer depends on the industry sector in question.
Some spending is undoubtedly leaking to competitors supplying alternative parts and services.
In other words, not growing your aftermarket business is not just losing you valuable margin – it's growing your competitor's aftermarket business instead!
This is very common in the automotive, industrial and domestic appliance sectors, for example, with older equipment serviced and repaired by lower cost independents rather than manufacturers or their franchised operations.
In other cases, the equipment user (individual or organisation) is purchasing non-genuine alternative 'aftermarket parts' and doing the service and maintenance work themselves.
In recent years, the trend is away from this kind of DIY service work, driven by increasing sophistication of equipment, lifestyle changes and outsourcing.
Public sector users, particularly Defence, come to mind here.
Whichever way you look at it, the potential opportunity exists for the average manufacturer to quadruple the size of its aftermarket revenues.
Whilst we don't anticipate that 100% achievement is attainable across your entire customer base, it is feasible to capture 100% of customer spending for some of your customers or customer segments.
Indeed, this is how leading manufacturers are achieving dramatic results.
3. The Customer Service Gap
The reason why customers decide to do their own servicing or turn to third party providers may be explained by the third dimension.
Well cited research by Bain & Company found that:
"80% of companies when surveyed said they give superior customer service but only 8% of their customers agreed with them."
As delivery of a consistent customer service experience is not usually the primary skill or motivation of a good manufacturing engineer, this intuitively makes a lot of sense.
That said, it is a bit simplistic.
It doesn't explain why companies aren't employing staff who are experts in delivering consistent customer service experiences, which of course they could if they really, really wanted.
There's also another way of looking at this research finding.
The reality gap is enormous!
If you could improve your customer service experience, do you think customers:
would pay more for your services?

would recommend your services to others?

would be more likely to re-purchase?

would buy parts and services from you more often?

would continue buying from you for longer?

would show more loyalty to your business more generally?
All manufacturers compete on the quality of their aftersales service experience whether they recognise it or not.
Hence, the customer service gap presents a differentiable opportunity for smarter manufacturers as well as increasing margins and customer loyalty.
4. The Customer Loyalty Multiplier
With a huge customer service opportunity available to manufacturers, the next logical question is "How big an improvement is required to make a difference?"
We've already hinted at customer loyalty in the last section and a lot of research has been done in this area.
Those busy people at Gartner, in yet more research, found that:
"A 5% increase in customer retention could increase profits by a whopping 25% to 125%."
A different survey by Bain and Company found that:
"A 5% increase in customer retention could lead to an increase in company profits of between 25% and 95%."
Not quite as much but hey, let's not be greedy!
Increasing customer retention clearly provides a route to higher profit margins and those increases can be quite small.
The multiplier can be quite large though, ranging from a minimum of 5x to a whopping 25x!
So, in other words, every 1% increase in customer retention is worth 5% to 25% in extra profit.
At this point, you might be forgiven for thinking that all you need to do to start growing your aftermarket business is improve your customer service operation and customer loyalty will improve, driving up profits.
Unfortunately, it's not as simple as that of course.
But hopefully we've given you some useful statistics to convince your colleagues that growing your aftermarket business is no longer optional.
So ask yourself:
How does your aftermarket parts & service margin compare with new product margins?

How big is your customer spending gap – could you 2x, 3x or 4x your sales (or even better)?

How big is your customer service gap?
How Servispart Consulting Can Help
Our aftermarket growth service is called Aftermarket 360™ and is specifically designed to assess your aftermarket capability strengths and weaknesses to create an aftermarket growth strategy that delivers high impact results in minimum time.
If you'd like an informal conversation about how you could develop your aftermarket strategy and improve your aftermarket growth, get in touch.
Additional Resources
More information on how to discover your aftermarket genius and grow your aftermarket business is available here.
PDF DOWNLOAD
The Aftermarket Growth Guide
for Original Equipment Manufacturers (OEMs)
"It's the ultimate guide to developing your aftermarket strategy"