Aftermarket growth, or to be more exact, the lack of it is often a missed opportunity for manufacturers of equipment, parts and their distributors.
Typically described as the "poor relation" to manufacturing in businesses making engineered products, aftermarket is a missed opportunity for a number of key reasons:
Firstly, customers don't just want products, they want a total solution to their needs.

That means they want services as well as products.

If they can't get those services from you, they'll go to your competitors for them.

While that equals lost revenue in the short run, it adds up to much worse in the long run.

Most engineered equipment is a significant capital purchase for a customer.

However, customers can spend up to four times that amount again over the useful life of the product.

That money is spent on spare parts, equipment repairs, maintenance services and the like.

If you don't offer these competitively, then you're missing out on an opportunity to generate extra value, extend your customer relationship and make life harder for your competitors.

Equipment lifecycles can last more than 10 years and up to 50 years or more depending on the equipment sector.

That's a long time not to be talking to your customer between purchases.

Finding a way to maintain a regular relationship therefore kills two birds with one stone.

Increased loyalty and higher revenue.

Leading manufacturers in a variety of equipment sectors are catching on fast.

Manufacturers can't live in the 1960s and 1970s anymore.

The "make it and sell it" ways of the production era have long gone.

Customers are more demanding.

Customers are more discerning.

Manufacturers need more than just product and process innovation to survive.

You need service innovation too.
Without a doubt, aftermarket growth should be at the centre of your overall business growth strategy.
Why Develop Your Aftermarket
Generating a growing and sustainable business is the primary goal of most business owners and leaders.
In recent years, research into aftermarket services has become more prevalent as manufacturers recognise the potential of aftermarket services as a major growth driver.
Recent research has highlighted the compelling business case for manufacturers and distributors on four principle dimensions.
1. Wider Profit Margins
Research by Gartner found that profitability of aftermarket sales is greater than for new product sales.
They found that:
"On average, aftermarket accounts for 24% of total revenues of manufacturing businesses, but 40% to 80% of total profits."
Note that this is an average and depends on your industry.
So there are advanced manufacturers that are doing better than this and there are others doing less well.
SEE ALSO: 4 Big Reasons Why You Should Be Developing Your Aftermarket Business for more on this.
Wider profit margins for aftermarket parts and services is a good enough reason on its own for growing your aftermarket business.
But there's more…
2. The Customer Spending Gap
Our own research and experience of working with manufacturers across a variety of industry sectors over the last three decades has taught us that most manufacturers are not making the most of their aftermarket opportunities.
Industry research backs up our findings and puts a number on it.
Research shows that:
"The average manufacturer is only capturing 25% of its customer's total service spending on its products."
So, what's happening to the other 75%?
And why are manufacturers allowing 75% of their customer's budget to leak away to competitors?
What happened to the customer relationship that was developed through to the Point Of Sale?
The answer depends on the industry sector in question.
Whichever way you look at it, the potential opportunity exists for the average manufacturer to quadruple the size of its aftermarket revenues.
While we don't anticipate that 100% achievement is attainable across your entire customer base, it is feasible to capture 100% of customer spending for some of your customers or customer segments.
Indeed, this is how leading manufacturers are achieving dramatic results.
3. The Customer Service Gap
The reason why customers go elsewhere for their servicing or spare parts may be explained by the third dimension.
Well cited research by Bain & Company found that:
"80% of companies when surveyed said they give superior customer service but only 8% of their customers agreed with them."
The reality gap here is enormous!
If you could improve your aftersales service experience, do you think customers would spend more with you and stay more loyal?
All manufacturers compete on the quality of their aftersales service experience whether they recognise it or not.
Hence, the customer service gap presents a differentiable opportunity for smarter manufacturers as well as increasing margins and customer loyalty.
4. The Customer Loyalty Multiplier
With a huge customer service opportunity available to manufacturers, the next logical question is "How big an improvement is required to make a difference?"
We've already hinted at customer loyalty above and a lot of research has been done in this area.
More research by Gartner found that:
"A 5% increase in customer retention could increase profits by a whopping 25% to 125%."
A different survey by Bain and Company found that:
"A 5% increase in customer retention could lead to an increase in company profits of between 25% and 95%."
Not quite as much but hey, let's not be greedy!
Increasing customer retention clearly provides a route to higher profit margins and those increases can be quite small.
The multiplier can be quite large though, ranging from a minimum of 5x to a whopping 25x!
So, in other words, every 1% increase in customer retention is worth 5% to 25% in extra profit.
At this point, you might be forgiven for thinking that all you need to do to start growing your aftermarket business is improve your customer service operation and customer loyalty will improve, driving up profits.
Unfortunately, it's not as simple as that.
The BIG Mistake – How NOT To Grow Your Aftermarket
You can't grow a business just by focusing on customer service.
If you've ever started a business of any kind, you'll know all too well that you can't establish and grow a business just by focusing on sales and marketing either.
SEE ALSO: 80% of Aftermarket Business Growth Is Not About Sales or Marketing
Unfortunately, that's what a lot of business leaders try to do and it's a BIG mistake!
While it's true that you can't grow a business properly without sales and marketing, it is also true that sales and marketing are insufficient on their own.
Growing a business of any kind is the role of the whole business and therefore requires a holistic approach.
A Holistic Approach To Aftermarket Growth
Growing a business involves identifying and improving all of the underlying root causes of sluggish growth.
Failure to do this will stall, or at least increase the risk of your business not growing.
And for manufacturers, growing an aftermarket parts and service business is not the same as growing your manufacturing business.
Manufacturing is predominantly about products whereas aftermarket is predominantly about services.
And product capabilities are not the same as service capabilities – not even for sales and marketing!
According to our research and experience, there are 10 capability levers that a manufacturing business must focus on to maximise aftermarket growth and profitability.
Sales and marketing only covers two of them (20%).
The other eight capability levers (80%) have nothing to do with sales or marketing.
If any one or more of these ten capability levers are missing or under-developed, then it can seriously constrain your aftermarket business growth.
Aftermarket Growth and Capability
Aftermarket businesses are particularly challenging for manufacturers because they are more service and people oriented than product oriented:
Availability of spare parts, service engineers, or service facilities?

Range of spare parts and service skills available?

Delivery time for spare parts?

Response time for service repairs?

Turnaround time of service repairs and non-stocked parts?

First Time Fix Rates for service calls?
Intangible customer service attributes such as these are driven by aftermarket capabilities such as service parts planning and service parts logistics, field service management, asset management, supplier management, and so on.
Failure to recognise and tackle operational deficiencies will strangle your attempts at aftermarket growth.
A Capability Approach to Aftermarket Growth
Cooperation and integration between process, systems, organisation and relationship dimensions are crucial.
In other words, closing a knowledge or skills gap can work, but only if it is the one piece of the jigsaw that is missing and holding back your progress.
So relying on recruiting a fancy sales person IS the right approach IF AND ONLY IF the lack of sales expertise is your only capability gap!
But if you have capability gaps in multiple areas then things can only improve slightly, at best.
And of course, if you don't know what your capability gaps are and you don't have a method of identifying them quickly, any progress will be via trial and error and painfully slow.
Over the decades that we've been improving other people's aftermarket businesses, we've seen perfectly good businesses losing £millions in sales and profits and their managers losing their jobs because they (mistakenly) thought that a new sales team was the answer, when it was only part of the answer.
Don't let that happen to you or your business!
So ask yourself:
Are you relying too much on your sales and marketing team to grow your business?

Are you 100% confident that you have the other 80% of your aftermarket capabilities at full throttle?

Do you possess the knowledge, tools and aftermarket insight to objectively identify your own gaps?
At Servispart Consulting, we have a capability management tool that we use to help our clients identify the capability gaps in their aftermarket business in a matter of days.
Obstacles To Aftermarket Growth
Pursuing the aftermarket growth opportunity sounds like a no-brainer for manufacturers so why aren't more manufacturers making the most of it?
Evidence suggests a number of historical factors are present in manufacturing firms.
Much like a smoker who says they want to give up smoking but can't, manufacturing firms have developed their own habits that have become ingrained over time.
The first step to overcoming their challenges is to recognise them for what they are and face up to them.
So let's examine the five aftermarket growth obstacles now.
SEE ALSO: 5 Obstacles To Aftermarket Growth For Manufacturers
1. Manufacturing Dominance
In most manufacturing businesses, aftermarket is known as "the poor relation."
Even in large corporate OEMs with large, apparently well-established parts and service businesses, this is still the case.
Manufacturing is always dominant, even when the manufacturing side struggles to break even and it is the aftermarket that makes the lion's share of the profit to keep the business alive.
2. Organisational Structure
With the dominance of manufacturing, aftermarket struggles for equal recognition in what is principally an engineering business.
Manufacturing businesses attract engineers and employees who love the product, first and foremost.
These people rise to the top of the organisation (if not already the owner/entrepreneur) and the cultural cycle of focusing on making stuff continues.
While these types of leaders are obviously necessary in a manufacturing business, their core competences are in designing, making, selling and distributing products.
Service related competences such as customer experience management, customer loyalty and total service solutions come less easily to them.
3. Financial Structure
Limiting organisation structures often drive limiting financial autonomy for the aftermarket business.
In many manufacturers, even the larger corporates, aftermarket is still treated as a cost centre rather than a profit centre.
This focuses attention on cost reduction strategies rather than profit growth strategies that are more common with profit centres.
This also goes a long way to explain why investment in aftermarket capability and aftermarket growth is constrained despite it making higher profit margins than manufacturing.
4. Aftermarket Operations
Without the focus and investment in aftermarket, it often has to make do with the same information systems used for manufacturing.
This impacts on the business processes, data and skills available to the aftermarket business causing limited competitiveness, poor quality information and lower customer value generation.
Without its own specialist systems, aftermarket continues to be lumbered with a system that was designed for and chosen by manufacturing.
Quite frankly, trying to operate an aftermarket business with a system intended for manufacturing is like trying to screw two pieces of wood together with a hammer!
You can join them together eventually, but it's hard work, produces a shabby result and a screwdriver would be a much better tool for the job.
5. Customer Distance
It's now more than half a century since the modern marketing orientation replaced the production orientation.
Yet many of today's manufacturers are still living in the 1970s and struggling to connect with their customers to fully understand their total needs.
Globalisation, third party business models and the advent of modern procurement practices such as category and commodity management, online auctions, etc. are creating more distance between manufacturers and their customers and thus making the situation worse, rather than better.
The lack of customer intimacy is especially acute for Small to Medium Enterprise (SME) manufacturers who don't have the clout or tactics to cope effectively with their much larger multinational customers.
Lack Of Aftermarket Growth Strategy
These five aftermarket growth obstacles are the major root causes of aftermarket still being the poor relation in most manufacturing businesses today.
For things to change, manufacturers first need to be motivated to change.
Motivation to change is not sufficient in itself though.
Manufacturers also need to know how to change and they need to possess the capability to change.
What they need, therefore, is an aftermarket growth strategy and a credible, robust growth action plan that convinces the senior leadership team to invest.
These are additional aftermarket growth challenges, which fortunately can be overcome.
How To Overcome Aftermarket Growth Challenges
Whatever your aftermarket growth challenges are, overcoming those challenges always starts with identifying and facing up to them.
While this sounds deceptively simple, it can be extraordinarily difficult, if not impossible, to do yourself.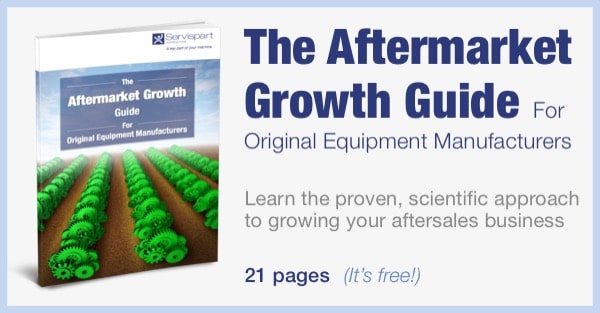 SEE ALSO: Aftermarket Growth Challenges And How To Overcome Them
One of the best ways that we've found of doing this is to take each challenge in turn and analyse it to break it down into smaller pieces or capability gaps.
Make sure you pay particular attention to the nature of those capability gaps.
In other words, what type of capability are they relating to?
Will closing the gap require process changes, system changes, asset changes, partner changes, location changes or information changes, say (not an exhaustive list)?
Or are they people capability gaps that need closing with extra knowledge, skills or additional warm bodies?
Will the capability gaps need to be closed permanently e.g. with a new information system?
Or are they the type of capability gaps that only need closing on a short term project basis e.g. with a service provider?
If you're dealing with multiple aftermarket growth challenges simultaneously then it's also a good idea to group similar capability gaps together into capability clusters.
Once you're happy that you've done all that, it's time to start reformulating the pieces into a Growth Action Plan.
How To Ensure Your Plan Will Work?
For a Growth Action Plan to be successful, it needs to be capable of overcoming your aftermarket growth challenges.
But how will you know whether it will do that or not?
You might think that following an analytical, methodical process like the one described here ought to deliver us a workable plan.
But that's not necessarily the case.
Resource-Based Theory of the Firm
Closing capability gaps to address your aftermarket growth challenges is all well and good, but it won't deliver one jot of benefit to your business unless the capability improvements satisfy at least one of the following tests and preferably all three:
Does it build on your strengths?

Does it target a known competitor weakness?

Does it address untapped customer needs?
If your capability improvement can address all three of these (very difficult to do) then you have a "silver bullet."
This is important because building a sustainable and profitable business necessitates generating greater value for your customers than your competitors can and the ability to sustain that competitive advantage in the long term.
Your company must also provide what your customers want and, in doing so, deliver more value than your customer's next best alternative.
If you can identify strengths in areas where your competitors are weak at the same time as matching key requirements of your largest and most profitable customers, then you have a "silver bullet" that must be developed and exploited to its maximum potential.
To do this effectively, your firm must possess resources and capabilities that your competitors lack.
Resources are firm-specific assets such as brands, reputation, organisational culture or employees with firm-specific expertise or know-how.
Capabilities are activities that a firm performs especially well compared with other firms.
So how can you assess and develop your aftermarket capabilities?
Ask yourself:
Are you clear on your aftermarket capability strengths compared with your competitors?

Do you have insight into what other aftermarket industry sectors can do?

Do you have the ability to assess and analyse your growth challenges objectively and honestly?
How To Develop Your Aftermarket Growth Strategy
Developing your aftermarket growth strategy is one of the most important priorities for an OEM's overall growth and financial health.
A proper well thought out and robust plan will increase the predictability of your revenue and profit growth and cut risk.
A flaky strategy and a feeble, smash and grab plan will achieve the opposite and ensure you struggle.
It is critically important that top level management own your aftermarket growth strategy and your corresponding Growth Action Plan.
Developing an effective aftermarket growth strategy and plan is a process requiring strong aftermarket expertise.
If you don't have that level of aftermarket talent in your company, the simple solution is to find and engage external resources that can help you through the process.
Regardless of whether you develop your plan yourself or engage external professional help, the process is the same and involves five iterative steps.
1. Assess Capability
If the maturity of your aftermarket capability is low then trying to jump straight to implementing advanced service strategies now would be like trying to obtain a degree in pure mathematics when you've not yet learned how to do fractions, percentages or simple algebra!
Companies that don't build capability progressively from their current level always end up stalling, regressing or damaging their credibility some other way.
Which implies that you need a method of assessing and measuring your existing capability maturity and an idea of what the logical development path is for building from here.
The obvious answer to this conundrum is a comprehensive aftermarket capability maturity model.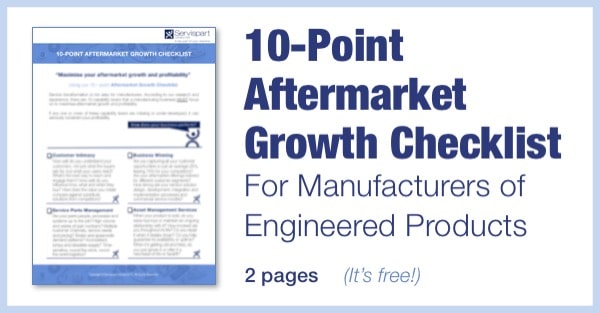 Your capability model needs to provide maturity measures spanning all the core aftermarket capability drivers and critical aftermarket capabilities.
Taking a scientific approach to aftermarket capability development is a revelation for most companies, boosting profitability.
At Servispart, we have seen significant investment returns with multiple clients in multiple engineered parts and equipment sectors and have unlocked many remarkable results.
Capability assessment and benchmarking, when done consistently, ensures that focus is maintained on your most important development areas.
It also enables capability improvement progress to be tracked and feedback to be provided to business leaders so they know their investment is having the desired effect.
At this stage, it is recommended that you track capability maturity scores alongside your operational and financial Key Performance Indicators (KPIs).
These are the things that will really inspire leader's confidence to continue investing and growing your aftermarket.
2. Analyse Capability
After measuring your existing aftermarket capabilities and comparing with your desired level, you will have gaps that must be addressed.
You will also have identified some capability strengths.
At this stage though, more analysis is required to uncover the full nature of your capability gaps and the true genius of your capability strengths.
It can be extremely difficult to remain objective in your self-assessment and analysis but you need to find a way of doing this if possible.
Reluctant interviewees can be encouraged to share more if you utilise independent interviewers, for example.
It is most effective when they interview your customers, suppliers and business partners on your behalf and can often uncover strengths or weaknesses that would otherwise stay hidden.
3. Plan Capability
The next task is to identify the business growth opportunities that will be targeted first and the associated capability developments required to realise those opportunities.
This involves synthesising information gathered so far into a clear action plan detailing the specific capability development projects, resources required, timings, risk assessments and investment appraisal.
This is an important stage requiring care and objectivity.
It also requires experience of similar capability development projects to determine the type and quantity of resources required.
While it might be tempting to try and upgrade big chunks of capability all in one go and do everything yourself, risk can be reduced significantly and iterative growth momentum established by building and delivering capability upgrades in smaller chunks that link directly to (ideally) one defined business growth opportunity at a time.
The aim then is to iterate the aftermarket growth cycle as rapidly as possible, building bite-size chunks of capability and measuring progress as you go.
Those familiar with modern system development techniques may recognise this as being very similar to a project management method known as "agile," albeit what is described here is a little less structured and less formal.
4. Upgrade Capability
With your strategy and plan in place and signed off by your leadership, your required new capability projects need to be developed.
These will involve a combination of process developments, system developments, people recruitment, training and organisational changes or finding, selecting and appointing new business partners.
Of all the five stages of the aftermarket growth lifecycle, this is the one most likely to go wrong. When it does, business leaders often compound the problem by blaming the strategy or plan when, in fact, the root cause of their problem is a lack of specialist experience in developing new aftermarket capabilities.
Nobody would ask a family doctor to conduct a life-saving surgical operation or ask a heart surgeon to conduct brain surgery.
It is therefore critical to have experienced aftermarket resources and know-how leading your aftermarket development projects.
Adopting appropriate project and programme management methods such as Prince 2 and MSP (Managing Successful Programmes) is also highly recommended.
Experienced leaders of change with the right qualifications will not only minimise the risk of failure, but will also save time and money in the longer run.
5. Deliver Capability
After implementation, it is important to run your business with your new processes, systems, people, partners, etc. for a period to allow for adjustments to be made, new resources and methods to fully embed, etc.
Eventually, when the new level of aftermarket capability becomes the new norm or "business as usual," it will be time to re-assess your capability maturity again and to record your latest KPIs.
When you do this, it is essential that you use the same method of measuring your aftermarket maturity and KPIs as you did before so that you can track progress as you go along.
For larger organisations, consistent use of the same capability maturity model and associated KPIs enables lines of business, geographic or product divisions, etc. to be compared against one another and capability to be shared or transferred.
So ask yourself:
Do your resources have the specialist experience to develop your new aftermarket capabilities?

Do you have access to a credible aftermarket capability measurement tool and maturity model?

Do you possess the objectivity and commercial independence to undertake your aftermarket assessment yourself?
Our aftermarket growth service is called Aftermarket 360™ and is specifically designed to assess your aftermarket capability strengths and weaknesses to create an aftermarket growth strategy that delivers high impact results in minimum time.
If you'd like an informal conversation about how Aftermarket 360™ could help you develop your aftermarket strategy and improve your aftermarket growth, please get in touch.
Key Signs You Should Rethink Your Aftermarket Strategy
How can you tell that you need to rethink your aftermarket strategy?
When growth stalls or is stagnant in a business, talk inevitably turns to cutting prices or ramping up sales and marketing resources in an attempt to boost product sales.
Those tactics can be effective in the short term, but only if they address the root cause of your problem.
But what if the root cause of your problem has nothing to do with sales or marketing?
What if you have a much bigger underlying problem than that?
So, if your profitability is shrinking, or enquiries and service contract renewals aren't as strong as they once were, or it's been a while since you considered investing in your aftermarket capability, it might be time to rethink your aftermarket strategy first.
Your aftermarket — more than just warranty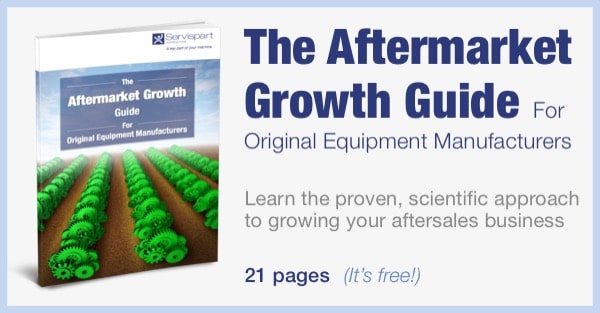 Your aftermarket is more than just a way of dealing with customer complaints and warranty claims.
At its core, it's the way to build customer loyalty, outcompete your competitors and deliver sustainable profit growth.
When done well, your aftermarket will help you to accomplish many important business objectives, including:
Cost savings, improved performance and better service experience for your customers.

Improved usage and performance data feedback for through-life product engineering.

New service revenue streams and customer value optimisation over the full product lifecycle.

Improved financial margins, growth, profit visibility and earnings/equity multiples.

Longer term stability, customer retention and business longevity.
So if your aftermarket growth has slowed, you're entering a new market, offering a new service, or you can't remember when you last considered your aftermarket business, then it is definitely time to rethink your aftermarket strategy.
Aftermarket growth rate has slowed
Flat growth or an inability to unlock your true aftermarket potential are important indicators that your aftermarket strategy, organisation, processes or systems may be out of date.
Lack of a clear aftermarket offering and strong aftermarket delivery capability makes it harder for your customers to quickly understand what you do and how you can best help them.
It is worth remembering that customers and top talent commit themselves to strong companies with a compelling vision of the future.
Hence, if your strategy is unclear, then your leaders, managers and staff will struggle to articulate your advantage to existing customers and potential prospects.
So if your aftermarket offering seems outdated or unclear to those outside your firm, your competitors will see that as a sign of weakness for them to exploit.
And when that happens, it won't be long before your best customers and staff start leaving and taking your profits with them.
SEE ALSO: How to Develop An Aftermarket Growth Strategy
Entering new markets or offering new services
At Servispart Consulting, we are known for the servitisation of manufacturing and building aftermarket capability.
Most manufacturing businesses are relatively new to the process of servitisation and are nowhere near fulfilling their true aftermarket potential.
Servitisation is obviously relevant for all Original Equipment Manufacturers (OEMs) and most parts manufacturers.
What's less obvious, is that it is also relevant for parts distributors and service providers too.
Especially if they are competing with manufacturers in the third party aftermarket marketplace.
Servitisation inevitably leads to the aftermarket side of your business entering new markets and offering new services.
Doing that successfully requires new aftermarket processes, systems, people, organisation structures, service partners, commercial business models, etc.
Which in turn requires you to rethink your aftermarket strategy and create a Growth Action Plan.
Your aftermarket strategy is out of date
Needing to refine your aftermarket strategy does not mean your aftermarket business is dead.
On the contrary.
Evolution of your strategy can be the natural outcome of your successful growth and technological changes in your industry.
But research shows that companies that don't refresh their strategy every 5 to 10 years will become out of synch with the marketplace and struggle to remain relevant.
The speed of technological change and customer behavioural change in today's market means that the need for change is a constant in successful businesses.
Aftermarket capability is no different.
And things can change much quicker than you realise.
The Internet is ubiquitous today but it's hard to believe that the Internet was in its infancy 20 years ago.
Similarly social media.
The likes of Facebook and Twitter were just getting going as recent as 10 years ago.
When did you last review your aftermarket strategy?
I don't mean produce an annual budget for it, everyone does that.
I mean fundamentally sit down with your team together, and think things through properly with proper data, innovative ideas and knowledge of the latest best practice?
Time to rethink your aftermarket strategy
Engineers in manufacturing businesses spend most of their time worrying about digital manufacturing, additive manufacturing (3D printing), Internet of Things (IOT), new material technologies like carbon fibre or graphene, and the like.
However, the impact of these things on your aftermarket also needs to be considered.
Probably even more so given the relative profitability of the aftermarket compared with new product sales.
Then there are the aftermarket specific issues and opportunities to consider.
Aftermarket processes, systems, organisations, partners and business models need to be updated every few years to stay relevant and competitive.
A field service engineering team that isn't using mobile devices to access critical customer information and technical parts information, for example, won't be as effective as one that is.
A service parts team that isn't using the latest service parts planning software and processes is spending too much cash on inventory, losing parts sales to competitors, or most likely, both.
And a competitor delivering a faster, stronger parts and service experience is just an Internet click or tweet away from your customers.
Even for B2B and B2G customers too.
Whether your goal is to boost aftermarket growth, servitise your business, or simply to stay relevant in today's dynamic industry marketplace, you should rethink your aftermarket strategy.
At the very least, an aftermarket benchmark is something to strongly consider.
And especially before you invest your precious time and money in tactics (new staff, process tweaks, new CRM or ERP systems, outsourcing, etc.), that will be sending an outdated or ineffective message.
Benefits Of Aftermarket Growth
Aftermarket should not be an afterthought.
It should be at the centre of your business strategy.
Without question, aftermarket has become the new growth driver for OEMs.
Whether you wish to attain the highest levels of aftermarket  maturity in your manufacturing business or not, focusing more on your aftermarket growth opportunities and developing your aftermarket service capabilities will deliver more sustainable growth.
Many manufacturing and engineering executives are afraid of venturing into a world they don't understand.
But you should not be concerned.
Even that challenge can be solved.
We'll show you how.
Embrace it.
Investing in your aftermarket capability will reward you with a steady stream of value and business benefits for many years to come.
If done properly, it will grow revenues, widen profit margins and expand longer-term order books.
It will build customer relationships to retain customers for longer, while customers receive better service, improved performance and cost savings.

How Servispart Consulting Can Help
After reading this guide, if you feel the need to assess your aftermarket capability and develop a robust aftermarket growth plan for your business, please contact us to request more information or book a time to speak with one of our specialists.
Servispart Consulting specialises in aftermarket strategy and development for manufacturers and distributors of engineered products.
For more free resources, view our growing library of aftermarket insights including guides, checklists,  white papers, articles, webinars, videos and podcasts.