If your manufacturing or distribution business is experiencing aftermarket growth challenges then you're not alone.
Aftermarket growth challenges come in many shapes and sizes.
We wrote about some of the biggest ones here but you may well have others.
Evidence suggests several historical factors are present in manufacturing and distribution firms, particularly those in the UK.
Whatever your growth challenges are, overcoming them always starts with identifying and facing up to them.
While this sounds deceptively simple, it can be extraordinarily difficult, if not impossible, to do yourself.
Simply because it is almost impossible to be 100% objective, open and honest when you are examining your own business or performance.
Once you have your aftermarket growth challenges identified, the next step to overcoming them is to reduce, eliminate or go around them so they don't continue to constrain your ambitions.
Again, this sounds simple, but what does it actually mean in practice?
Overcoming Aftermarket Growth Challenges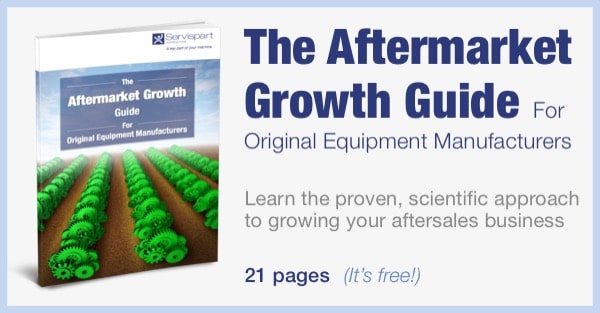 One of the best ways that we've found of doing this is to take each challenge in turn and analyse it to break it down into smaller pieces or capability gaps.
Make sure you pay particular attention to the nature of those capability gaps.
In other words, what type of capability are they relating to?
Will closing the gap require process changes, system changes, asset changes, partner changes, location changes or information changes, say (not an exhaustive list)?
Or are they people capability gaps that need closing with extra knowledge, skills or additional warm bodies?
Will the capability gaps need to be closed permanently e.g. with a new information system?
Or are they the type of capability gaps that only need closing on a short term project basis e.g. with a service provider?
Also consider whether the capability should be core to your business or is best outsourced to an external provider who is an expert at it and better able to maintain best practice or thought leadership in that specialist capability.
I could go on but hopefully you get the idea.
Multiple Aftermarket Growth Challenges
If you're dealing with multiple aftermarket growth challenges simultaneously then it's also a good idea to group similar capability gaps together into capability clusters.
This makes it easier to recognise and remove any duplicates, which would otherwise lead to nugatory work, time and cost.
Once you're happy that you've done that, it's time to start reformulating the pieces into a Growth Action Plan.
Growth Action Plan
The first thing to do here is to reframe the capability gaps (aftermarket growth challenges) as capability improvement opportunities.
Thinking of them as improvements rather than gaps somehow makes it easier to plan.
Don't ask me why…it just does!
If you have a lot of capability improvement opportunities then it's never a good idea to try and do them all at once.
So it will be necessary to prioritise them somehow.
Typically this is done using attractiveness measures such as urgency, importance, ease of doing it, most bangs per buck, and so on.
More than likely it will be necessary to involve a number of key business stakeholders in this prioritisation exercise.
And this can be quite time consuming if stakeholders are geographically dispersed and can't all attend a workshop together, for example.
Once prioritised, the capability improvement opportunities can be scheduled into a Growth Action Plan.
Scheduling Capability Improvements Projects
As you've more than likely got more capability improvement projects than you can shake a stick at, prioritising them is only half the battle.
Scheduling the top priority ones first is easy, but you'll still have the problem of what to do with the lower priority ones.
The answer, of course, is to create a Growth Action Plan with multiple waves or tranches of capability improvement.
This is best practice in business change management and a recognised programme management technique.
Each tranche should be significant enough in size to be meaningful, while small enough to be manageable and short enough in duration to maintain momentum and motivation for all people and stakeholders involved.
There are other things to consider here such as grouping similar capability improvements together and doing things in the right order.
You also need to consider budget requirements, resource availability, programme management capability, and so on (not an exhaustive list).
With the right skill and judgement though, and a bit of iteration, it should be possible to create a worthwhile Growth Action Plan.
How Do You Know It Will Work?
For a Growth Action Plan to be successful, it needs to be capable of overcoming your aftermarket growth challenges.
But how will you know whether it will do that or not?
You might think the analytical, methodical process we have just gone through ought to deliver us a workable plan.
But that's not necessarily the case.
Look back over the process with a more critical eye and you will spot multiple areas where corners could be cut, bias could creep in, and so on.
Spotting those issues and addressing them will reduce the risk of failure but there's still a vital ingredient missing – the secret sauce in the recipe!
Resource-Based Theory of the Firm
Closing capability gaps to address your aftermarket growth challenges is all well and good, but it won't deliver one jot of benefit to your business unless the capability improvements satisfy at least one of the following tests and preferably all three:
Does it build on your strengths?

Does it target a known competitor weakness?

Does it address untapped customer needs?
If your capability improvement can address all three of these (very difficult to do) then you have a "silver bullet."
This is important because building a sustainable and profitable business necessitates generating greater value for your customers than your competitors can and the ability to sustain that competitive advantage in the long term.
Your company must also provide what your customers want and, in doing so, deliver more value than your customer's next best alternative.
If you can identify strengths in areas where your competitors are weak at the same time as matching key requirements of your largest and most profitable customers, then you have a "silver bullet" that must be developed and exploited to its maximum potential.
To do this effectively, your firm must possess resources and capabilities that your competitors lack.
Resources are firm-specific assets such as brands, reputation, organisational culture or employees with firm-specific expertise or know-how.
Capabilities are activities that a firm performs especially well compared with other firms.
So how can you assess and develop your aftermarket capabilities?
Ask yourself:
Are you clear on your aftermarket capability strengths compared with your competitors?

Do you have insight into what other aftermarket industry sectors can do?

Do you have the ability to assess and analyse your growth challenges objectively and honestly?
How Servispart Consulting Can Help
Our aftermarket growth service is called Aftermarket 360™ and is specifically designed to overcome your aftermarket growth challenges by assessing your aftermarket capability strengths and weaknesses to create an aftermarket growth strategy that delivers high impact results in minimum time. Learn more here.
If you'd like an informal conversation about how you could develop your aftermarket strategy and improve your aftermarket growth, get in touch.
Additional Resources
More information on how to discover your aftermarket genius and grow your aftermarket business is available here.
PDF DOWNLOAD
The Aftermarket Growth Guide
for Original Equipment Manufacturers (OEMs)
"It's the ultimate guide to developing your aftermarket strategy"